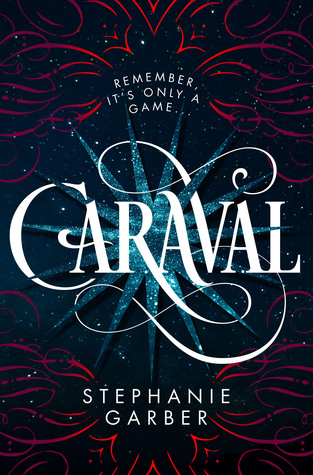 Title: Caraval (Caraval #1)
Author: Stephanie Garber
Published: January 31, 2017
Pages: 407
My Rating: 4.5/5
Goodreads Summary:
Remember, it's only a game…
Scarlett Dragna has never left the tiny island where she and her sister, Tella, live with their powerful, and cruel, father. Now Scarlett's father has arranged a marriage for her, and Scarlett thinks her dreams of seeing Caraval—the faraway, once-a-year performance where the audience participates in the show—are over.
But this year, Scarlett's long-dreamt-of invitation finally arrives. With the help of a mysterious sailor, Tella whisks Scarlett away to the show. Only, as soon as they arrive, Tella is kidnapped by Caraval's mastermind organizer, Legend. It turns out that this season's Caraval revolves around Tella, and whoever finds her first is the winner.
Scarlett has been told that everything that happens during Caraval is only an elaborate performance. Nevertheless she becomes enmeshed in a game of love, heartbreak, and magic. And whether Caraval is real or not, Scarlett must find Tella before the five nights of the game are over or a dangerous domino effect of consequences will be set off, and her beloved sister will disappear forever.
Welcome, welcome to Caraval…beware of getting swept too far away
My Review:
I really liked this book! It really surpassed all my expectations.
The world of Caraval is absolutely fascinating and I've completely fallen in love with it. The story was so magical, so enchanting, so captivating. It draws you in from the very first page. There are so many twists and turns around every corner that I never saw coming and the last few chapters really shocked me.
I loved all the characters, especially Scarlett and Julian. Scarlett and her sister Tella have spent most of their lives being abused by their terribly manipulative father. Probably because of this Scarlett is very protective of her sister and she would anything for her. I really liked her character development, how she learns to follow her desires and how she starts using her voice.
Every person has the power to change their fate if they are brave enough to fight for what they desire more than anything.
Julian is the mysterious and charming love interest and I think I have a huge crush on him.
Stephanie Garber's writing style is amazing: the way she describes the sights, the sounds, the smells…
I loved the twists and turns and the way I could never understand what was real and what was part of the game. I could never anticipate what was going to happen next. It was all magical, mysterious and filled with wonder.
I believe that Caraval is a great read for anyone who loves adventure, magic and a little romance and I can't wait to read the sequel, "Legendary".