It's starting to get cold here in the Northern Emisphere. So, here are some winter reading reccomandations! Some of these books I have read and some I hope to read in the near future.
So curl up by the fireside, grab a cup of hot chocolate and start reading!
---
Frost-demons have no interest in mortal girls wed to mortal men. In the stories, they only come for the wild maiden.' 
In a village at the edge of the wilderness of northern Russia, where the winds blow cold and the snow falls many months of the year, an elderly servant tells stories of sorcery, folklore and the Winter King to the children of the family, tales of old magic frowned upon by the church.
But for the young, wild Vasya these are far more than just stories. She alone can see the house spirits that guard her home, and sense the growing forces of dark magic in the woods…
---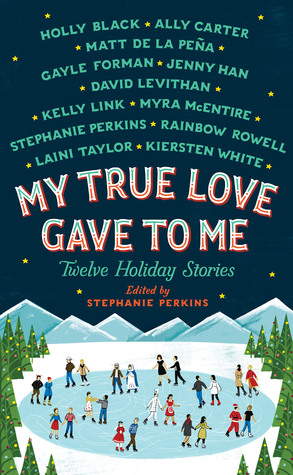 If you love holiday stories, holiday movies, made-for-TV-holiday specials, holiday episodes of your favorite sitcoms and, especially, if you love holiday anthologies, you're going to fall in love with My True Love Gave To Me: Twelve Holiday Stories by twelve bestselling young adult writers, edited by international bestselling author Stephanie Perkins. Whether you enjoy celebrating Christmas or Hanukkah, Winter Solstice or New Year's there's something here for everyone. So curl up by the fireplace and get cozy. You have twelve reasons this season to stay indoors and fall in love.
---
An ill-timed storm on Christmas Eve buries the residents of Gracetown under multiple feet of snow and causes quite a bit of chaos. One brave soul ventures out into the storm from her stranded train and sets off a chain of events that will change quite a few lives. Over the next three days one girl takes a risky shortcut with an adorable stranger, three friends set out to win a race to the Waffle House (and the hash brown spoils), and the fate of a teacup pig falls into the hands of a lovesick barista.
A trio of today's bestselling authors – John Green, Maureen Johnson, and Lauren Myracle – bring all the magic of the holidays to life in three hilarious and charming interconnected tales of love, romance, and kisses that will steal your breath away.
---
In his "Ghostly little book," Charles Dickens invents the modern concept of Christmas Spirit and offers one of the world's most adapted and imitated stories. We know Ebenezer Scrooge, Tiny Tim, and the Ghosts of Christmas Past, Present, and Future, not only as fictional characters, but also as icons of the true meaning of Christmas in a world still plagued with avarice and cynicism.
---
They open a door and enter a world
NARNIA…the land beyond the wardrobe, the secret country known only to Peter, Susan, Edmund, and Lucy…the place where the adventure begins.
Lucy is the first to find the secret of the wardrobe in the professor's mysterious old house. At first, no one believes her when she tells of her adventures in the land of Narnia. But soon Edmund and then Peter and Susan discover the Magic and meet Aslan, the Great Lion, for themselves. In the blink of an eye, their lives are changed forever.
---
The circus arrives without warning. No announcements precede it. It is simply there, when yesterday it was not. Within the black-and-white striped canvas tents is an utterly unique experience full of breathtaking amazements. It is called Le Cirque des Rêves, and it is only open at night.
But behind the scenes, a fierce competition is underway – a duel between two young magicians, Celia and Marco, who have been trained since childhood expressly for this purpose by their mercurial instructors. Unbeknownst to them, this is a game in which only one can be left standing, and the circus is but the stage for a remarkable battle of imagination and will. Despite themselves, however, Celia and Marco tumble headfirst into love – a deep, magical love that makes the lights flicker and the room grow warm whenever they so much as brush hands.
True love or not, the game must play out, and the fates of everyone involved, from the cast of extraordinary circus per­formers to the patrons, hang in the balance, suspended as precariously as the daring acrobats overhead.
Written in rich, seductive prose, this spell-casting novel is a feast for the senses and the heart.
---
Here lives an orphaned ward named Lyra Belacqua, whose carefree life among the scholars at Oxford's Jordan College is shattered by the arrival of two powerful visitors. First, her fearsome uncle, Lord Asriel, appears with evidence of mystery and danger in the far North, including photographs of a mysterious celestial phenomenon called Dust and the dim outline of a city suspended in the Aurora Borealis that he suspects is part of an alternate universe. He leaves Lyra in the care of Mrs. Coulter, an enigmatic scholar and explorer who offers to give Lyra the attention her uncle has long refused her. In this multilayered narrative, however, nothing is as it seems. Lyra sets out for the top of the world in search of her kidnapped playmate, Roger, bearing a rare truth-telling instrument, the alethiometer. All around her children are disappearing—victims of so-called "Gobblers"—and being used as subjects in terrible experiments that separate humans from their daemons, creatures that reflect each person's inner being. And somehow, both Lord Asriel and Mrs. Coulter are involved.
---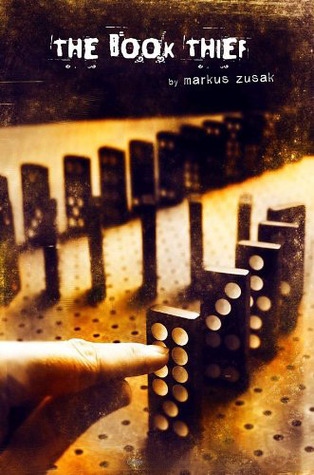 It's just a small story really, about among other things: a girl, some words, an accordionist, some fanatical Germans, a Jewish fist-fighter, and quite a lot of thievery. . . .
Set during World War II in Germany, Markus Zusak's groundbreaking new novel is the story of Liesel Meminger, a foster girl living outside of Munich. Liesel scratches out a meager existence for herself by stealing when she encounters something she can't resist – books. With the help of her accordion-playing foster father, she learns to read and shares her stolen books with her neighbors during bombing raids as well as with the Jewish man hidden in her basement before he is marched to Dachau. This is an unforgettable story about the ability of books to feed the soul.
---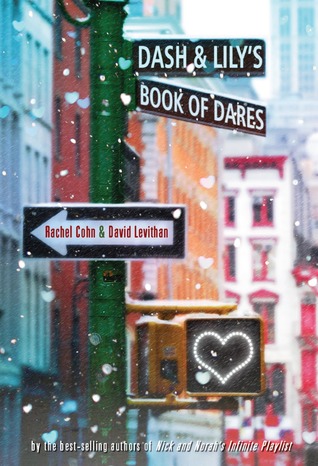 "I've left some clues for you.
If you want them, turn the page.
If you don't, put the book back on the shelf, please."
So begins the latest whirlwind romance from the bestselling authors of Nick & Norah's Infinite Playlist. Lily has left a red notebook full of challenges on a favorite bookstore shelf, waiting for just the right guy to come along and accept its dares. But is Dash that right guy? Or are Dash and Lily only destined to trade dares, dreams, and desires in the notebook they pass back and forth at locations across New York? Could their in-person selves possibly connect as well as their notebook versions? Or will they be a comic mismatch of disastrous proportions?
Rachel Cohn and David Levithan have written a love story that will have readers perusing bookstore shelves, looking and longing for a love (and a red notebook) of their own.
---
In this heartwarming novel, author Greg Kincaid tells the tender story of how one very special dog changed the lives of his adoptive family and an entire town forever.
Todd, they always want you to adopt a dog. That's what they do. Besides, we don't need another animal around here, and most definitely not a dog.
When Todd McCray, a developmentally challenged young man still living on his parents'™ Kansas farm, hears that a local animal shelter is seeking temporary homes for its dogs during the days leading to Christmas, he knows exactly what he wants for the holidays. His father objects, but Todd's persistence quickly wins out. Soon the McCrays are the short-term foster family for a lovable pooch the young man names Christmas.
But what about all the other dogs who will be forced to spend the Yuletide season in cages? In the days that follow, Todd uses his special gifts of persuasion to encourage his hometown to participate in the Adopt a Dog for Christmas Program. What follows from his small act of kindness will teach his family, and his community, about peace on earth and good will toward men and animals.